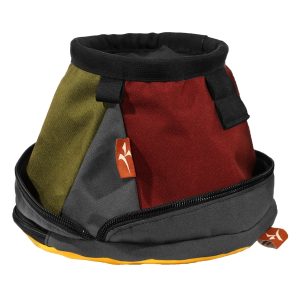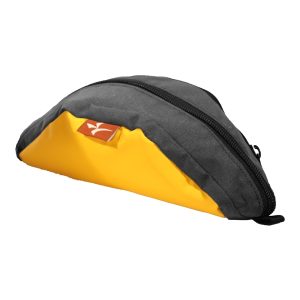 KiloJoule 3.0 Chalk Bucket Stock Colors
The KiloJoule 3.0 brings a whole new set of solutions providing the best chalk bucket on the market.  The new zipper pocket gives plenty of quick storage, protected from chalkdust, and allowing access in both open and closed configurations.  Trimmed down dimensions makes it even more packable than the larger KiloJoule 2.0, and still gives you a huge and stable bucket.  The KiloJoule 3.0 still provides use without the fear of tipping, spilling, and wasting of loose chalk.  The Patent Pending "Constant Closure System" keeps chalk from spilling while allowing for a quick and easy dip before sending your next problem.  Keep water and moisture at bay with a waterproof vinyl shell while the bag is zipped up, and while it sits on the soggy ground.  A rugged zipper allows this ingenious taco style closure allows for spill free transport and years of wear and tear.
Built to be the best, the KiloJoule 3.0 chalk bucket is constructed of the best materials and made in the USA in our Boulder, Colorado workshop.  Every item is hand inspected with rigorous detail.  Keep your mind on the send, never on the quality of your Kinetik products.
$

38.00
Select options
Joule 2.0 Chalkbag
The Joule is our take on the classic worn chalk bag using our exclusive, ergonomically designed shape improving the connection of climber and bag on route.  The Joule's compact, fast and light, design reduces weight and bulk, and increases comfort.  The flat back design improves accessibility and stability by preventing twisting and bag shifting.  Designed with the natural ergonomics of the hand, the tapered diamond shape funnels chalk into one area for quick easy dips, allowing you to concentrate on the send, not on the bag.  Additionally, a reinforced upper rim opens the bag wide for easy access at all times.  Allow 2 weeks for production of custom ordered Joule chalk bags.
$

23.00
Add to cart
Build your own