The development of the Kinetik Climbing Newton Crash pad has been a work in progress for over 14 years.  Back in Southern Illinois,  we came to a realization that the crash pads available on the market had room for improvement, and that we could make them with a few rolls of military grade fabrics, some foam, and a whole lot of broken sewing machine needles.  It took a long time, and a lot more money than we expected, but the designs came together and the foundation of the Kinetik Newton came together.  The foundation of the Kinetik Climbing crash pad ascended from our design education, four years of study that told us that a product, through research, testing, and a little customer feedback, could always be made into something better and more enjoyable.
Our first big breakthrough for the Kinetik crash pad was the idea of creating a bouldering pad that could easily be cleaned after a wet session in the swampy ground in Southern Illinois' Bouldering areas.  Utilizing a military grade, waterproof vinyl fabric, we decided that the shell could be made 100% waterproof, providing easy cleaning after the most swampy landings. This fabric was unruly as all hell, but with a lot of pattern work, and a lot of broken needles, we worked out one of the first iterations of the Newton crash pad.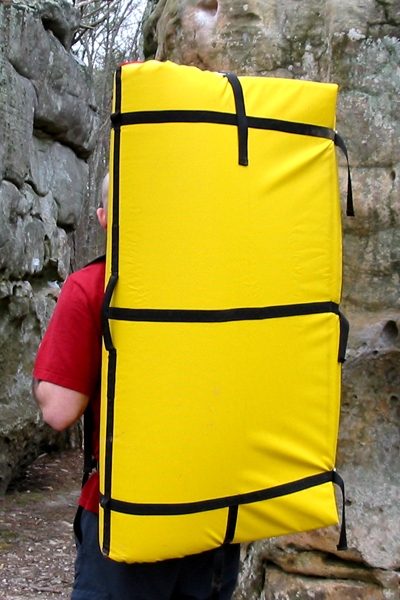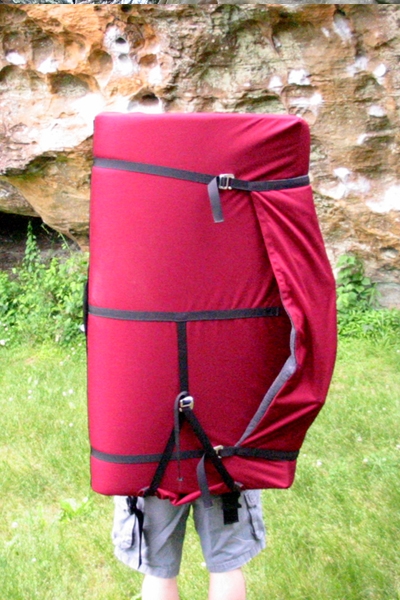 With a crash pad that could be hosed off after a bouldering session, we thought we had a great solution to the dirty pad problem.  However, we quickly realized that we still had a shoulder strap area covered in mud and dirt for the hike out of the boulder fields.  With our backs covered in mud, our cars quickly took the brunt of the abuse as well.  The Kinetik design team started work on the development of crash pad numero duo.  This begat the birth of the flaps and straps version of the Newton, still coming from the basement workshops of Southern Illinois.  With a series of flaps, a bunch of straps, and a lot more pattern work, we solved our second problem with the common bouldering pad.  
With a mess of straps to handle, a whole lot of waterproof fabric, and a decent solution to our problems of dirt, mud, and moisture.  Kinetik made the move to Boulder, Colorado, to pursue more adventurous bouldering on the Front Range of the Rockies.  This is when the real work began, starting a legit climbing product business.  From finding the absolute highest quality foam and fabric to actually designing patterns that could used in a manufacturing setting, not just in our basement, Kinetik Climbing Products was built with a lot of sweat and a lot of determination.  Through multiple part-time jobs, failed relationships, and many hardships, the company continued to progress and laid a foundation to become the business we have today.  In these years, the crash pad design morphed and transitioned into the basic form it holds today.  
In these middle years, pattern were altered, straps were shortened, lengthened, and Velcro closures were used in different areas.  We went through a lot of crash pad changes in this time.  After a few years, to further simplify the system, industrial Velcro was integrated into all the closure areas of the Kinetik Newton crash pad.  With further development, using our flap system, we were able to create a system of stacking pads which eliminates the need for additional straps to carry multiple crash pads.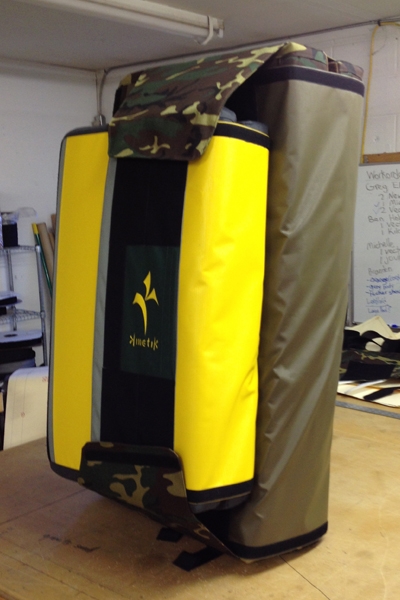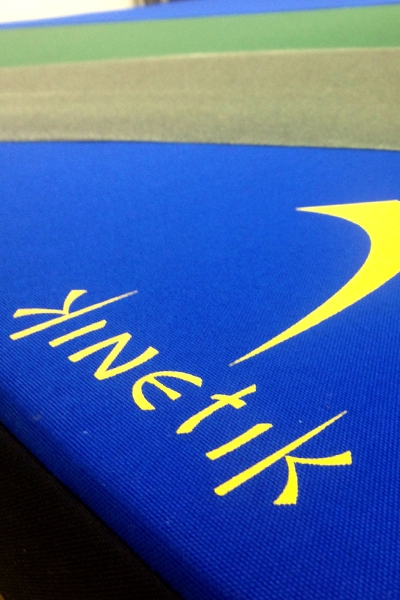 At this point in the Kinetik Newton development, it became increasingly necessary to streamline the production of the Newton.  With all the added features, high quality materials, and continuing our dedication to Made in the USA, the Newton had moved itself out of the price range for the beginner or intermediate boulderer.  We went back to the drawing board, and started cutting new patterns and committed ourselves to only one color of waterproof military fabric.  By putting the waterproof material only where absolutely necessary, we were able to streamline the assembly process and lower our retail price points without compromising our commitment to the highest quality landing foam available.  Creating a patterned landing zone, with industrial upholstery, durable ballistic fabrics, and a large variety of color, made the stand alone in the wide world of bouldering crash pads.  
I hope you enjoyed the trip through memory lane for us at Kinetik Climbing.  Although we absolutely love our solution found in the Newton Crash Pad system, we strive every day to make them even better.  There are always changes on the way in the Kinetik design department.  At no point in our history or our future will we sit back on our heels and let good enough be good enough for us.